Your stay at the Albatros




Port of departure: Monnickendam (April, May, September), Franeker, Enkhuizen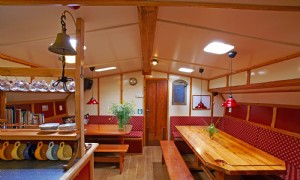 The Albatros is a beautiful and authentic ship for groups of 14 to 16 persons. This well-maintained tjalk sails from Monnickendam in spring and in late summer. In the months of June, July and August the ship sails from Franker or Enkhuizen.

Thanks to its flexible layout the ship is excellently suited for a trip with one or two families, friends or a company trip. Two double cabins are converted int a six-person cabin in no time. Sustainability and the environment are taken into account with all activities on, around and with the ship. With the wind and the sails skipper Zeger wants you to enjoy the tranquillity and vastness of the water!
Sailing on the Albatros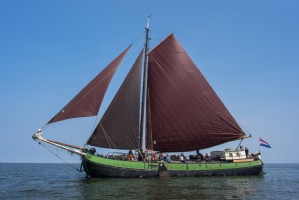 Sailing on the Albatros is an action activity. The crew, consisting of skipper Zeger and a sailor gives the group the necessary instructions, so sailing experience is not required.

In spring the Albatros sails from the harbour of Monnickendam. Sailing area are the Markermeer and IJsselmeer. In late afternoon the ship moors in picturesque towns such as Edam, Muiden, Marken or Volendam. In general, the berths are in the centre of town. But you can also mor in larger towns such as Hoorn and Enkhuizen.

During the summer months the ship sails from Enkhuizen or Franeker. Weather permitting, you can reach the Wadden Sea within a couple of hours from these harbours. Spending a day or evening on of the Wadden islands of Texel, Vlieland or Terschelling is certainly a possibility. During a week trip the harbours of Ameland or Schiermonnikoog can also be reached under certain conditions. However, this is determined by weather conditions and the tide.

Crew of the Albatros
Zeger and Emilie van der Zel are the owners of the Albatros. Zeger will be your skipper and tour guide during your stay on board. You can ask him all your geological, astronomical and meteorological questions.
Zeger has sailed since he was 10. In winter he sails over the oceans or on one of the Greenpeace ships, for instance to Antarctica. So he always has a good story in the evening.
In general, Emilie is not on board. But if you wish to use catering services from the ship (we will gladly make a suitable offer for you), she is the one who prepares the meals on board, tending to the inner spirit.
Layout

Steps take you down to the former hold of the ship. This has been converted to a spacious and attractive room, where you will quickly feel at home.
Opposite the stairs you will find a well-equipped kitchen. The gas stove has 6 burners and a large oven. Inventory, pots and pans are available in sufficient numbers.
In the parlour the group can be seated at three large tables with benches. Sufficient place to have a nice dinner, play a game (available on board), read a book or have a good conversation.
In the bow are the sanitary spaces (a toilet and a shower/toilet combination) and 7 double cabins. One cabin has a double bed. The front cabin on the starboard side has two folding children's beds (for children up to c. 12, maximum length 1.60 metres). This cabin can also be joined with the cabin on the port side, so you can stay the night with up to 6 persons.

Facilities on the Albatros